Robert Young, Trinidad & Tobago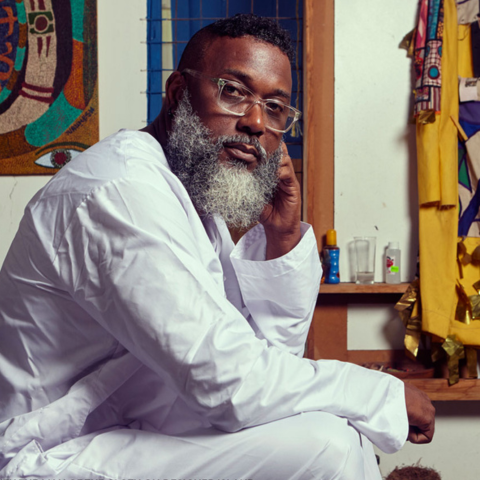 Robert Young founded The Cloth, a Caribbean fashion brand grounded in folk, revolution, restoration and integration, in 1986 in Trinidad & Tobago. Since then, The Cloth has become the most influential fashion brand from the Caribbean, pioneering the use of appliqués in designs that honor Caribbean aesthetics and craftsmanship. Many of Robert's creations feature a patchwork appliqué that is found in all cultures of Trinidad & Tobago, namely indigenous, African and Indian, building a contemporary way to make clothes using a centuries-old craft technique. Son of a former trade unionist, Robert is very much an activist who uses his designs to draw attention to issues and tell social and political stories. "I see myself as an artist working with clothing, not a fashion designer."
The Cloth roots itself in the Caribbean and reaches for a pre-Columbian experience of the land. All manufacturing happens at its atelier in Belmont, and the brand is on a quest to make a label that is Caribbean from seed to stitch: not only designed, cut and stitched in Trinidad & Tobago but made from materials grown in the soil of the region. The Cloth has shown collections at Paris Fashion Week and Lisbon Fashion Week, and two pieces are currently featured in the exhibition From the Deep: In the Wake of Drexciya with Ayana V. Jackson at the National Museum of African Art, Smithsonian Institution.
Robert will be a featured speaker of the LAD | Book Launch, Design Talk & Designers Reception to be held at one of Northwest DC's most impressive modern homes on Friday, October 13th, from 6:30-9:30 pm (the address will be emailed to ticket holders a few days before the event).
Iconic pieces from The Cloth will be available for sale at the LAD | Opening Party & Design Awards on October 14th from 5-9 pm and at the LAD | Latin American Design Show on October 15th from 11 am-7 pm. 
@theclothofficial